Chinese New Year(Spring Festival) is a Chinese festival that celebrates the beginning of a new year on the traditional Chinese calendar. It is the most important festival for Chinese. The Spring Festival is based on the Chinese traditional lunar calendar, which usually takes place in January and February, the date is not fixed. Although the public holiday are generally only 7 days, in fact many Chinese will rest for more than 7 days. 
During the Spring Festival, Chinese population returning to welcome the Chinese New Year is the world's largest population flow of the tide. Chinese work areas are usually very far away from worker's hometown, so during the Spring Festival, most of the mainland factories will give employees holidays. One to two weeks before the Spring Festival, the factory will speed up production, and will stop completely during the Spring Festival. The factory will be able to resume normal production from one to two weeks after the Spring Festival.
Take 2018 as an example. The public holiday of the Spring Festival in 2018 is from February 15 to February 21, 2018, but the Spring Festival Travel Rush is from February 1, 2018 to March 12, 2018. The number of passengers sent is about 2.97 billion. China has about 1.4 billion people now, which means that almost every Chinese has a long-distance trip during the Spring Festival travel rush of 2018. This is a national holiday, even a workaholic will rest during the period.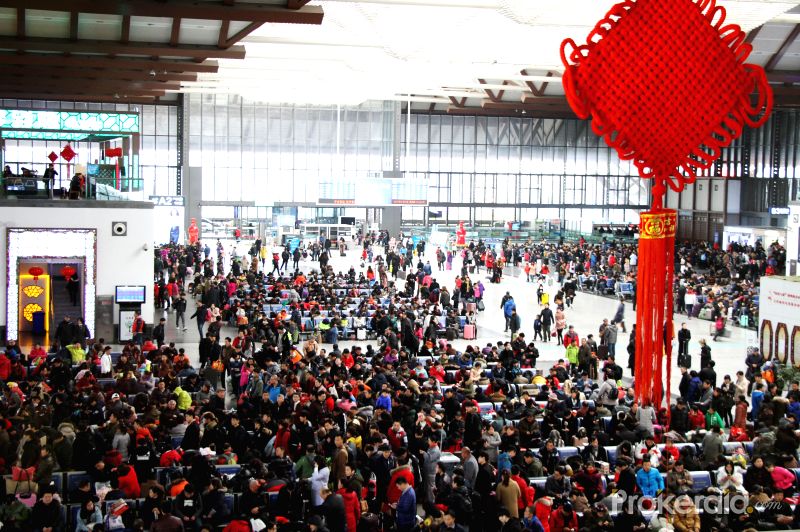 Image of Spring Festival Travel Rush
China is the most important part of the supply chain, most amazon seller produce the goods in China too. As you can imagine, during the Spring Festival, it is almost impossible to complete any shipping from China to Amazon FBA, because almost all workers are resting. Even after the public holiday, there will be a transition period of about one to two weeks, and then the factory and the shipping company can be restored to a normal state.
If you are just starting to sell Amazon, it is important to note that in order to minimize the impact of your Amazon sales business, you need to properly arrange your purchases before the Spring Festival. For goods that need to be received before March, you'd better be able to start shipping from China in January. Don't start order the goods before the Spring Festival, which will destroy your amazon business. Even if the factory can help you work overtime, the shipping company would delay the shipping too, due to the shortage of personnel during the Spring Festival.